The legal association ÖHD called on the Turkish government to adhere to its own laws and international regulations and to end the illegal isolation of Abdullah Öcalan and his three fellow prisoners.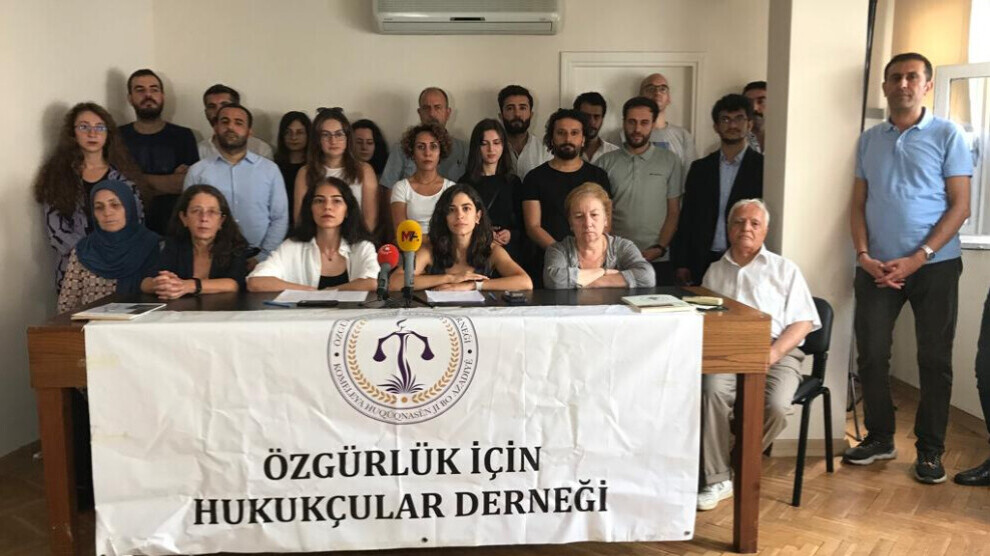 The legal association ÖHD (Özgürlük İçin Hukukçular Derneği) called for the abolition of the illegal isolation system on the prison island of Imrali at simultaneous press conferences in several cities in Turkey. The Turkish government was asked to abide by its own laws and international conventions.
Representatives of the Human Rights Foundation of Turkey (TIHV), the Human Rights Association IHD and the Asrin Legal Office, which represents Abdullah Öcalan and his three fellow prisoners Ömer Hayri Konar, Hamili Yıldırım and Veysi Aktaş, also attended the press conference in the ÖHD building in Istanbul. Lawyer Sezin Uçar said that there had been no contact with the Imrali prisoners for more than thirty months. The last lawyer visit to the prison island was on 7 August 2019, and telephone or written communication has also been denied.
Uçar said: "The lawyers cannot provide legal assistance and they have no information about the health status of their clients as they cannot communicate with their clients in any way, including by telephone or letter. The prisoners held in Imrali are subjected to inhumane and unacceptable isolation practices due to their Kurdish and political identities, and this unprecedented illegality is not sufficiently addressed in public. This situation is almost ignored."
The lawyer added: "The Committee for the Prevention of Torture (CPT), a body of the Council of Europe of which Turkey is a member, has previously prepared reports on Imrali Prison and issued recommendations and warnings to Turkey to end these illegal practices. Unfortunately, Turkey is far from complying with these recommendations. It has defiantly deepened the isolation system in Imrali and made Imrali Prison an inaccessible and unreachable place."
Uçar continued: "The United Nations Human Rights Committee granted a request from the lawyers of Mr. Öcalan and three other prisoners for an interim injunction in September 2022 and decided that the applicants should immediately have the opportunity to consult with the lawyers of their choice without any restriction. However, Turkey did not comply with this decision. In January 2023, after the lawyers informed the Human Rights Committee of the continued lack of news, the Committee again reminded Turkey of the interim injunction, which unfortunately Turkey did not comply with."
In addition, on 10 June 2022, 775 lawyers belonging to 29 bar associations applied for a certificate of admission to the Bursa Chief Public Prosecutor's Office, but the application still has not been responded to. On 14 September 2022, 350 lawyers from 22 countries, especially from Europe, applied for permission to visit the prison on Imrali Island. There was no response to these requests.
Imrali is a lawless zone
Uçar said: "This whole picture clearly shows that the law on Imrali has been put on hold in an unacceptable manner. In Imrali, political decisions apply, not laws. Mr Öcalan and the other three prisoners should be lost and forgotten in isolation. However, we know that despite all these unlawful actions, Mr. Öcalan has always acted constructively. From the day he was brought to Imrali, Mr. Öcalan has always acted constructively and sincerely committed himself to a solution to the Kurdish question. The Kurdish question is Turkey's most structural problem. At various times and in various ways, the state has also sat down with him and conducted dialogue to resolve this issue. Mr. Öcalan's calls led to ceasefire processes and peace groups came to Turkey.
Today, the isolation on Imrali has unfortunately spread to all of Turkey in every respect. 'Security policy' has replaced dialogue and peace policy in resolving the Kurdish question, and Turkey has entered a burning and dark period in all areas, especially in the economy. For all these reasons, the situation of isolation should be terminated immediately.
As lawyers fighting for democracy, freedom and justice, we call on Turkey to comply with the requirements of the decisions of the international legal institutions to which it is a party, such as the UN Human Rights Committee and the CPT. We call on all lawyers and the democratic public, especially bar associations and legal organizations, to speak out against this unacceptable isolation policy."