ANF had access to footage of a Turkish attack on guerrilla positions in Zap on 13 July, in which a tactical nuclear bomb was used.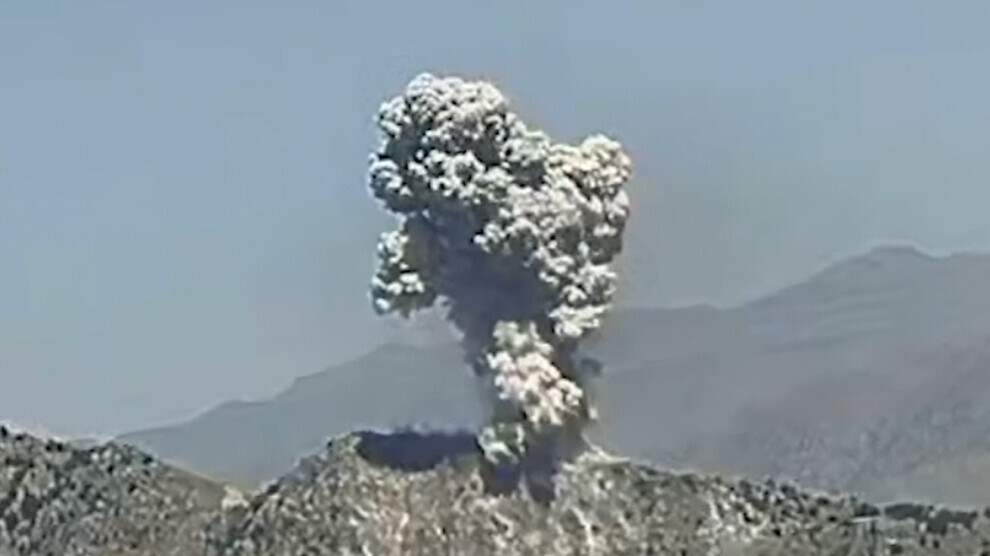 ANF has received footage of a Turkish attack on the guerrilla positions in Girê FM Resistance Area of the Martyr Delîl West Zap region of the guerrilla-held Medya Defense Zones in southern Kurdistan (northern Iraq). The attack was carried out with a tactical nuclear bomb at 10:12 on 13 July. The effects of the tactical nuclear bomb explosion are seen in the images recorded by the locals and guerrillas.
The HPG Press Center said in its statement on 14 July, that "the sound of the invading Turkish army's bombardments with tactical nuclear bombs, which are forbidden, in the west and east of Zap on 11 and 13 July, could be heard from kilometres away and the effect of the explosion spread to a very wide area."
People's Defense Center (HSM) Headquarters Commander Murat Karayılan drew attention to the prohibited weapons used by the Turkish army in his comments to ANF on 12 July and said: "For almost two and a half years, this area has been bombarded hundreds of thousands of times in an unprecedented way, and all kinds of chemicals have been tested. Thermobaric bombs were used. Phosphorus bombs were dropped and the last tactical nuclear bomb, which is in the inventory of NATO member countries and can only be used with NATO's approval, was used against our forces in Zap, Avaşîn and Metina."
The attacks carried out by the Turkish army with tactical nuclear bombs increased immediately after the NATO summit.