Kurdish activists holding a vigil in front of the UN headquarters in Geneva since 2021 denounced the isolation of Abdullah Öcalan in violation of all laws.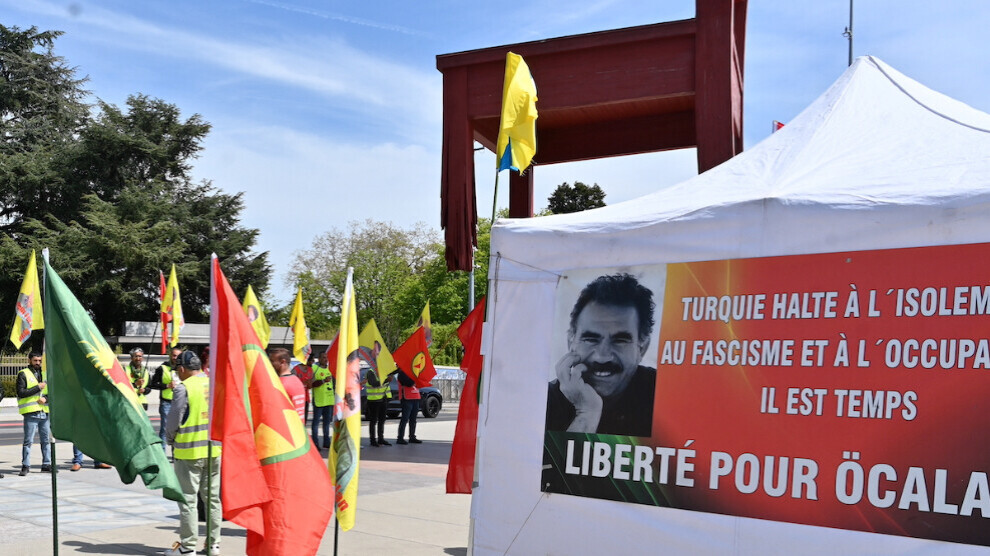 A vigil by the Democratic Kurdish Community in Switzerland has been taking place in front of the UN headquarters in Geneva since 25 January 2021. Every Wednesday, activists stage a protest in front of the United Nations building to demand the release of Kurdish people's leader Abdullah Öcalan. The action is carried out as part of the 'Dem dema azadiye' [Time for Freedom] campaign and directed against the isolation of the Kurdish leader on the Turkish prison island of Imrali, the Turkish occupation attacks on Kurdistan, the massacres committed in Kurdish territories and the silence of the UN.
Today's vigil began with a minute of silence paying tribute to Deniz Cevdet Bülbün, who lost his life as a result of Monday's attack on the KNK (Kurdistan National Congress) representation in Hewler (Erbil), in the Kurdistan Region of Iraq (KRI).
Speaking here, Dr. Thoreau Redcrow, co-chair of the Kurdish Center for Studies – KCS, spoke about the unlawful treatment of the Kurdish people and their leader at the hands of the Turkish state.
Citing the case of South African leader Nelson Mandela, Thoreau Redcrow said: "In the past 24 years, Abdullah Öcalan has been kept in isolation on Imrali Island, which is similar to the way apartheid Africa did with Nelson Mandela on Robben Island. It is an international crime the way that the Turkish state continues to keep Abdullah Öcalan in isolation. They are not only violating Turkish law, but also EU law, UN law and basically every law in the civilized world that says you cannot keep a human being in complete isolation from their family, from their lawyers, and from contact with the outside world."
Redcrow also talked about the Turkish state's atrocities against the Kurdish people, stating: "You don't go from a small handful of people to a very large guerrilla army unless the state is oppressing millions of people. It is the Turkish state that burned down four thousand Kurdish villages, outlawed the Kurdish language, abused Kurdish children, raped Kurdish women, carried out scores of war crimes against over 20 million Kurds in occupied Northern Kurdistan, what they call South-eastern Turkey. The Kurdish freedom movement is a result of Turkish oppression and Abdullah Öcalan is the only human who can negotiate and end the violence in Turkey and solve the Kurdish question in Turkey."
After the speech, activists turned their backs on the UN headquarters and staged a sit-in, chanting slogans demanding freedom for Öcalan.<