During the ongoing grand congress in Ankara, the Green Left Party will rename itself as the "Peoples' Equality and Democracy Party" (HEDEP).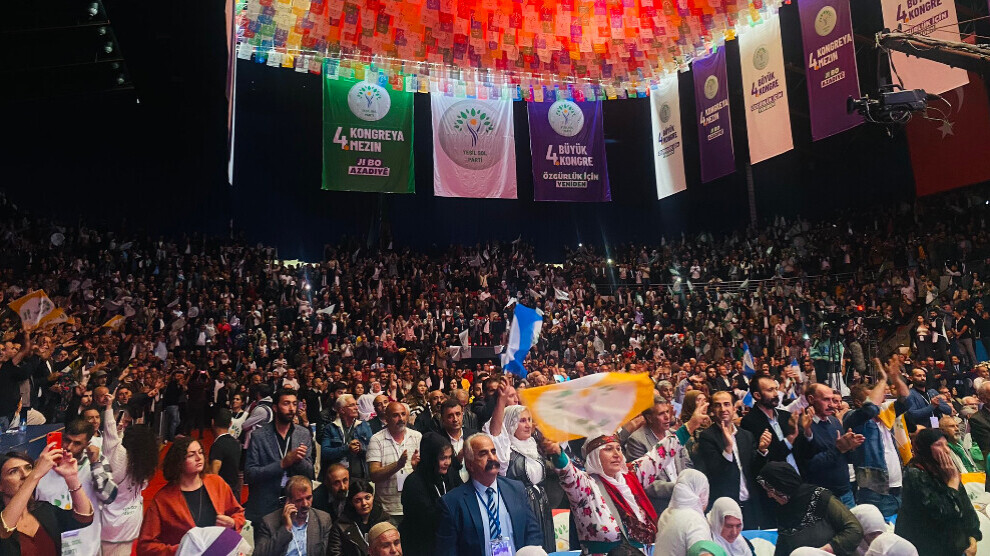 The congress of the Green Left Party began in Ankara on Sunday. The party congress is attended by thousands of people from all over Turkey. Because there is not enough space in the event hall, the congress is being broadcast via a large screen in front of the Atatürk Sports Arena. Before the start of the event, there was dancing inside and outside, and the slogan "Bijî berxwedana Rojava" (Long live the resistance in Rojava) could be heard again and again. In the hall, central demands such as "Democratic solution to the Kurdish question", "No to isolation, peace now", "Democratic constitution" and "System change instead of climate change" are displayed on banners.
At the congress, around 800 delegates will elect the new co-chairs and the party council consisting of eighty members, and the members of the disciplinary and arbitration committees will also be determined. As previously announced, the Green Left Party, which contested elections for the first time in May due to the threat of a ban on the Peoples' Democratic Party (HDP), will rename itself at the congress. The new name is Peoples' Equality and Democracy Party (Halkların Eşitlik ve Demokrasi Partisi, HEDEP).
Representatives of civil society organisations such as DTK (Democratic Social Congress, tr. DTK) and HDK (Peoples' Democratic Congress) as well as various parties such as DBP, HDP, DP, SYKP, ESP, TIP, TÖP, EHP, EMEP, Sol, CHPG, DEVA, TSIP, DSIP, Azadî, KKP, KSP and PDK-T are participating in the congress.
Many foreign delegations and representatives are attending the Congress. Among them are Basque MP Oihana Etxebarrieta Legrand, BASTA General Secretary Franziska Stier, French Left Party co-chair Pierre Barbier, Elizabeth Doussain Puyraud from the French Left Party, Parliamentarian Ilona Szatmàri Waldau from the Swedish Left Party, MEP Nikos Papandreou, MEP Socialist Democrats Jörgen Siil, Jódís Skúladóttir, Mireille Court from the French New Anti-Capitalist Party, Primet Raphaelle from the French Communist Party, Mahmod Ahmad from the Norwegian Socialist Left Party, Liv Müller Smith Sivertsen from the Norwegian Red Party, Mina Jack Tolu, Hakan Taş from Die Linke. Also present are Antonia Tilly, Pınar Ecevitoğlu and Yasemin Ahi from the Friedrich Ebert Stiftung Turkey Representation, Julia Bartman from the Heinrich Böll Turkey Representation, Valentina Škafar from the European Left Group and Janet Sawaya from the National Democracy Institute.
Speaking here, Meral Danış Beştaş, who was elected president of the council, said: "The enemies want to destroy our struggle for freedom but nobody can achieve to choke our march for freedom which we inherited from our history and will keep going until the last drop of blood."
Speaking about the incommunicado detention of Kurdish leader Abdullah Öcalan, who has not been heard from for 31 months now, Beştaş stated: "Mr. Öcalan is held in isolation. We will smash this isolation and the PKK leader Öcalan will attain his physical freedom. We trust our people and their struggle. We say "no to isolation" and "yes to peace". We will continue to advocate for the equality and fraternity of peoples against vicious policies."