The planned visit of Turkish President Recep Tayyip Erdoğan to Berlin at the invitation of the German government remains controversial.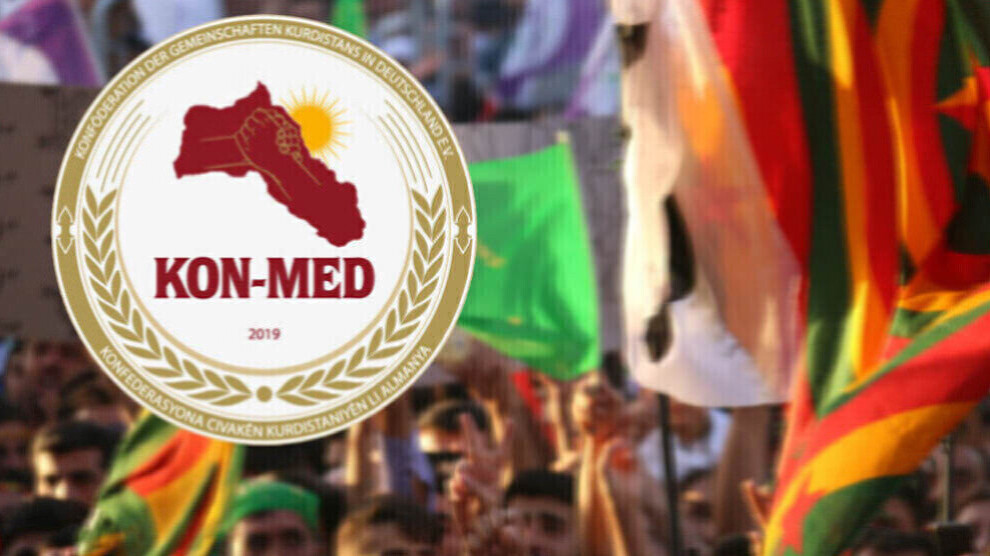 The Confederation of Kurdistan Societies in Germany (KON-MED), the largest Kurdish institution in Germany, released a statement calling for protests against the Turkish President who will visit Berlin and the Scholz government which invited him.
KON-MED said it is meaningful that Erdoğan's visit to Berlin will take place on 17th November, one day before the long-planned rally against the PKK ban on the 18th.
The KON-MED statement released on Thursday said: "The Turkish state's annihilation policies against the Kurdish people continue unabated. Suppressing the opposition in Turkey and pursuing a fascist policy against the Kurdish people's institutions in the first place, Erdoğan has taken thousands of Kurdish politicians hostage and maintains the isolation imposed on Kurdish people's leader Abdullah Öcalan. With an unprecedented isolation system that has no place in the universal law and domestic law, he manifests his stand against the Kurdish people. He wants to complete this annihilation campaign by bombing Kurdistan every day and using unconventional weapons that are banned by the international law of war. The ambitions of fascist Erdoğan and his allies are very obvious and clear. He wants to destroy all the gains of the Kurdish people."
The statement continued: "The Turkish state's war against the Kurdish people knows no morals. Both the domestic politics and foreign politics of the Turkish state are shaped on this basis. They are engaged in relations with all kinds of terrorist groups through an anti-Kurdish position. The practices of Erdoğan, who turns the Middle East into a bloodbath and acts with a Neo-Ottoman mindset, show what kind of a threat he constitutes to liberties and democracy.
Such a dictator will be visiting Berlin at the invitation of the German state. What a coincidence that he will come to Germany one day before the rally against the PKK ban in Berlin. With dirty deals, they want to give a message to the Kurdish people. The German state should put an end to its long-standing dirty relations with Turkey. Their meeting will discuss not only dirty plans against the Kurdish people, but also the war in the Middle East, migration control and the future of the EU-Turkey deal.
As KON-MED, we ask the German state to cancel this invitation, believing that it should take sides with human rights and democracy. This is at the same time an important test for German democracy. We believe that Erdoğan is a war criminal in the eyes of the German public, and we know that this invitation does not only hurt us, but also disturbs German society.
In this sense, we condemn the visit which is set to take place one day before the central rally in Berlin, and we call on the German state to abandon this attitude and cancel the invitation immediately.
We call on our people and all those who stand for humanity to ensure broad participation in the grand rally in Berlin and to mobilize to respond to dictator Erdoğan and the German government that invited him."